Our staff are committed to ongoing professional learning and development.
All teachers at Holy Cross hold a degree and teaching qualifications from a higher education institution relevant to their teaching area and give generously of their time, to engage professional development that supports learning for the 21st century.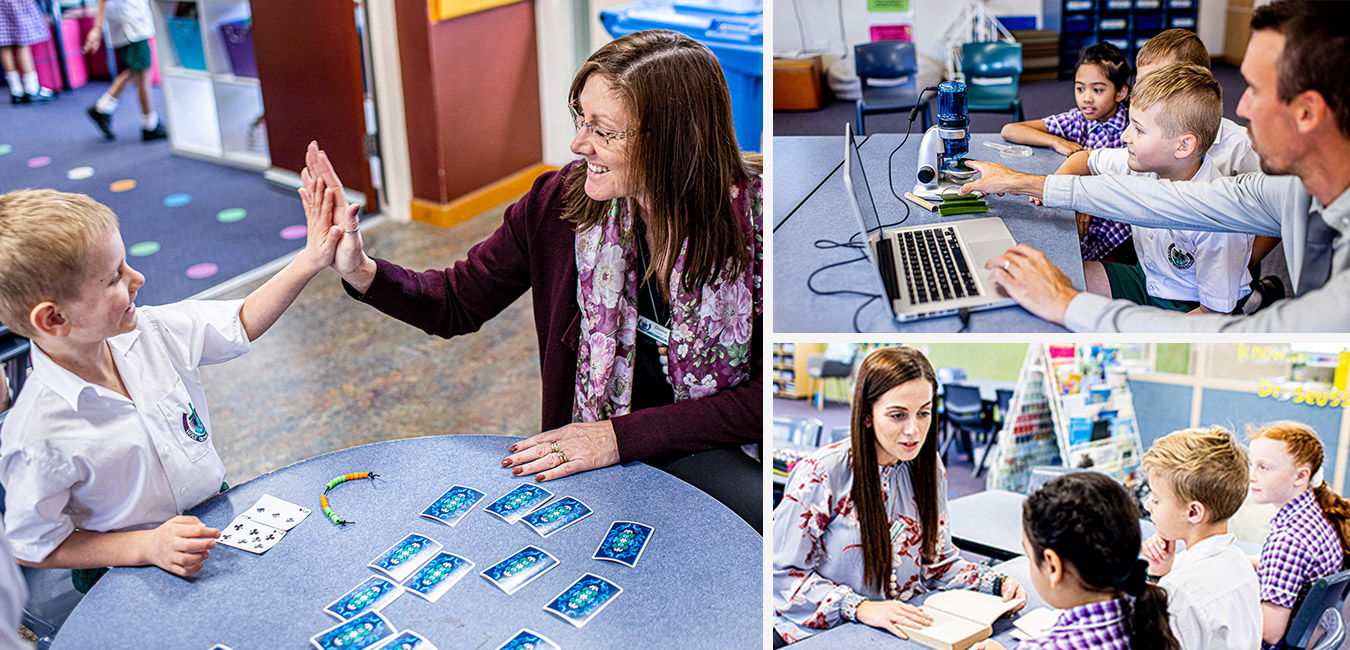 ---
LEADERSHIP TEAM
Principal
Miss Louise O'Donnell
Assistant Principal
Mr Shaun Buckley
Religious Education Coordinator
Mrs Lisa Clements
Leaders of Learning
Mrs Jesica Holt

Mrs Pauline Pittas

Special Project Coordinator
Mr Daniel Delaney
ADMINISTRATION STAFF
Secretaries
Miss Holly Osborne
Mrs Tina Aifantis
Mrs Maria Apap
TEACHING STAFF
Kindergarten Green
Mrs Natalie Fogg

Kindergarten Purple
Mrs Danielle Hillard & Mrs Daniella Merhi

Year 1 Green
Mrs Aymie Fenech

Year 1 Purple
Mrs Dionne Villiers
Year 2 Green
Miss Breeann Silcock

Year 2 Purple
Miss Breanna Bindley
Year 3 Green
Miss Brittney Van Gestel
Year 3 Purple
Mrs Jesica Holt & Mrs Daniella Merhi
Year 4 Green
Miss Jessica Calabritta
Year 4 Purple
Miss Bianca Dunger
Year 5 Green
Mrs Lisa Clements & Mrs Laura Collin
Year 5 Purple
Mrs Nicolette Callan
Year 5 Support
Mrs Gabrielle Garland & Miss Danielle Sammak
Year 6 Green

Mrs Pauline Pittas & Mrs Laura O'Neil
Year 6 Purple

Mr Daniel Delaney
Diversity Team
Miss Melissa Theoharous
Mrs Gracelyn Pielago
Mrs Anne Sayers
Mrs Loretta Farrelly
Mrs Jennifer McMasters
Music
Mrs Elizabeth Vallentine
Art
Mrs Clancy Hoyle
PDHPE
Miss Breeann Silcock & Miss Breanna Bindley
Librarian Assistant
Mrs Bridget Morgan
ANCILLARY STAFF
| | |
| --- | --- |
| Mrs Lyn McCully | Mrs Sue Perrin |
| Mrs Gloria Surdich | Mrs Belinda Turner |
| Mr Michael Fitzgerald (Maintenance) | |
---
Further Information
At Holy Cross we are happy to discuss any matters you may wish to raise. Please contact the school if you would like to contact a member of staff.