Holy Cross Primary students make positive behaviour pledge
17 Sep 2014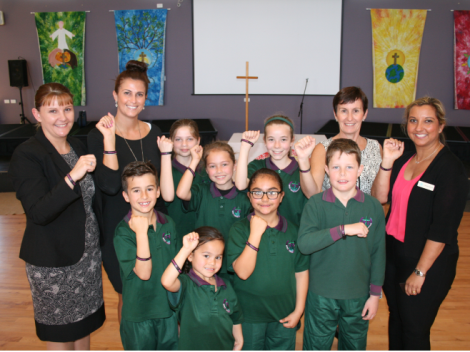 Assistant Principal Sarah O'Rourke, Year 2 teacher Natalie Platt, students Cooper Nadwie-Smith, Alicia Hoare, Sian Maio, Talia Harb, Paige Gornall, Aiden Irving, Principal Marina Hardy and Clinical Psychologist and Leading Counsellor Anoushka Houseman
Students at Holy Cross Primary, Glenwood joined their teachers and parents in pledging to act with respect, be safe and do their personal best at the recent launch of the Positive Behaviour Support for Learning (PBS4L) program.
Students produced a unique and entertaining video to explain the PBS4L program and help students understand what positive behaviour looks like. Students, teachers and parents pledged their commitment to positive behaviour, and received wristbands as a visible reminder to make positive choices.
The PBS4L framework is an evidence based and proactive school wide system that establishes clear behaviour expectations and explicitly teaches and re-teaches students how to enact these positive behaviours.
The framework encourages greater consistency amongst all teachers in their approach to behaviour management both in reinforcing positive behaviours and providing behaviour correction.
Research done at schools where PBS4L has been implemented shows that not only is there an improvement in student behaviour when using this framework, but there is also an increase in actual learning time for students.
PBS4L provides a common language and purpose amongst all students, teachers and parents at the school in regard to behaviour.
Year 2 Teacher, Natalie Platt says the framework will produce positive outcomes for students and teachers.
'Across the school all teachers are using the same common language with the students and explicitly teaching, reteaching and supporting positive student behaviours that will enhance the learning of all students through our PBS4L Framework,' said Natalie.
Principal Marina Hardy said teachers are creating an effective environment where students are able to make positive behaviour choices that support academic success.
'Our primary focus is our school motto and three core agreements: at Holy Cross we agree to learn together, we are safe, we are respectful and we do our personal best,' said Marina.
The framework was introduced with assistance from Cate Munro and Anoushka Houseman, who are Leading Counsellors at Catholic Education Diocese of Parramatta.
Anoushka says staff at Holy Cross are an exceptional group of teachers who have worked tirelessly over the last year to establish a consistent and positive school wide approach to behaviour management.
'Their dedication, enthusiasm and commitment to their students throughout this process has been unwavering,' said Anoushka. 'I think it's clear that their students will benefit enormously from this initiative and staff will in turn experience even greater job satisfaction.'
Facebook
23 Nov 2023

Congratulations to these students who received Gold and Platinum awards for their ongoing participation in the Premiers Reading Challenge 📚📖

23 Nov 2023

Congratulations to all of our students who received Personal Best and PBS4L awards this morning 👏