Holy Cross students recognised in Parliament for efforts to ban plastic bottles
11 Dec 2017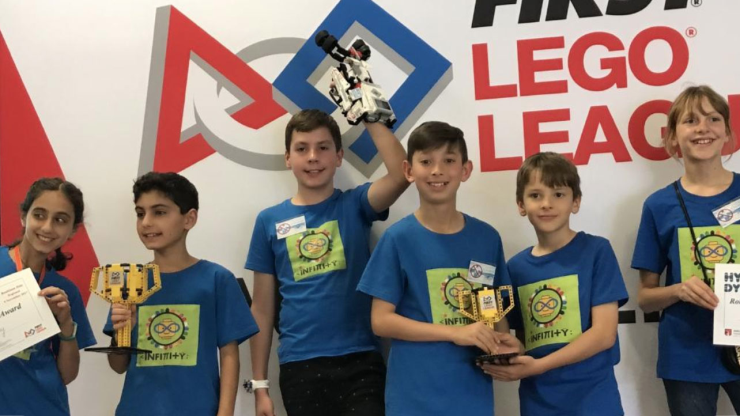 Team Infinity's Radin Gharavi, Dana Gharavi, James Hanlon, Maverick Phoonsiri, Eric Burakowski and Ella Burakowski.
It's not every day you local Federal member gets up and tells everyone how good you are!
Holy Cross Primary was mentioned in Parliament this week by Michelle Rowland, recognising the wonderful work of a student from Year 4 and a student from Year 6 who have been examining the problems of plastic pollution in our environment and have been campaigning to curb the use of water bottles in Australia.
See Michelle Rowland's comments regarding Holy Cross about 30 seconds into the attached video clip.
Team Infinity from Holy Cross Primary School have recently participated in the FIRST LEGO League program, working on a Lego robotics program to raise awareness about plastic bottle usage. As part of their project, students Ella & Eric Burakowski shared with Michelle Rowland some concerning plastic bottled water facts.
It takes 40,000 barrels of oil to make plastic water bottles for the whole of Australia
It takes three litres of water and one litre of oil to make one plastic water bottle
It can cost $2.50 to make one litre of plastic bottled water.
Team Infinity has been trying to reach out to organisations (who are the main consumer of plastic water bottles), sharing their concerns and alternative solutions such as composting, recycling projects and using portable water stations from Sydney Water which are free to hire.
Read about Team Infinity's success in FIRST LEGO League national championships.
Facebook
23 Nov 2023

Congratulations to these students who received Gold and Platinum awards for their ongoing participation in the Premiers Reading Challenge 📚📖

23 Nov 2023

Congratulations to all of our students who received Personal Best and PBS4L awards this morning 👏