Teacher learning community focuses on sustainability
12 Feb 2018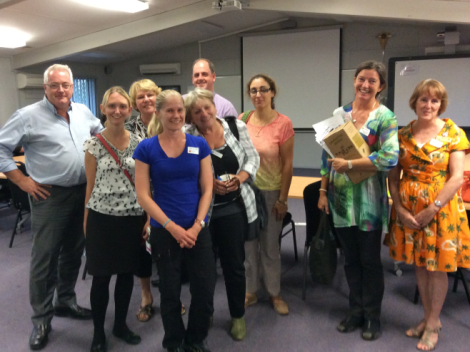 Professional Learning Community - Sustainability meeting
Catholic school teachers and leaders from the Diocese of Parramatta, schools outside the diocese, and the NSW Department of Education met at the Aengus Kavanagh Centre on Wednesday 19 March to form a professional learning community (PLC) for sustainability.
With the vision of 'creating a more ecologically and socially just world', the PLC is a forum for educators to share and learn from each other about issues related to sustainability and stewardship of the environment.
Using the national curriculum's cross-curriculum priority on sustainability, informed by the Catholic Church's teaching on stewardship, the learning community aims to provide resources and encouragement for teachers to create rich and engaging learning and teaching experiences
Catholic Education teaching educator, Cathy Smith said the initiative was a timely and important one.
'This is an exciting initiative and a timely one,' said Cathy. 'This is a call to action to look at how sustainability and stewardship of the earth can be embedded and enlivened in the syllabus.'
The learning community shared some of the many sustainable projects already in practice in their schools including kitchen gardens, rubbish free yards and healthy nutrition and fitness programs
Catholic Education teaching educator, Daryl Castellino, spoke about how Catholic values can be applied to the vision of the PLC specifically highlighting the dignity of human life and the role of supporting the common good through creative and aware stewardship.
The PLC will be meeting throughout the year. Teachers and leaders are encouraged to join by contacting Cathy Smith via csmith@parra.catholic.edu.au.
Facebook
23 Nov 2023

Congratulations to these students who received Gold and Platinum awards for their ongoing participation in the Premiers Reading Challenge 📚📖

23 Nov 2023

Congratulations to all of our students who received Personal Best and PBS4L awards this morning 👏